Life,
healing,
peace.
Grandma's chicken vegetable soup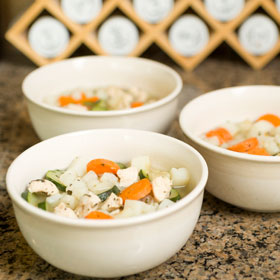 View step-by-step instructions

Makes 4 servings
Ingredients
1 can (14 1/2-ounce) reduced-sodium chicken broth
1/2 cup water
1 pound (3 medium) potatoes, cut into 1/2-inch cubes
1 medium carrot, cut into 1/4-inch slices
1 pound boned and skinned chicken breasts, cut into 1-inch chunks
1 medium zucchini, cut into 1/4-inch slices
3 green onions, sliced
2 teaspoons dried basil
1/8 teaspoon salt
1/8 teaspoon black pepper
Directions
In 3-quart saucepan over medium heat, combine broth and water.
Cover and bring to boil.
Add potatoes and carrot; cover and cook 5 minutes.
Add chicken, zucchini, onions and basil; bring to boil, reduce heat, cover and cook until chicken is opaque throughout, about 7 minutes.
Season with salt and pepper.
Nutrition information
Serving size: 1/4 recipe. Amount per serving: 240 calories, 3.1g total fat (1g saturated fat), 25g carbohydrates, 28g protein, 4g dietary fiber, 216mg sodium.
Source: Produce for Better Health Foundation (supplied courtesy of the United States Potato Board)